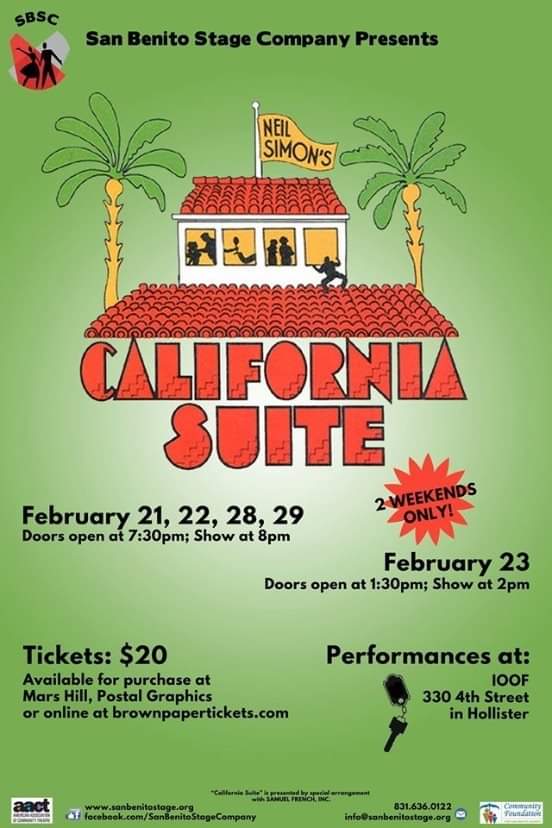 California Suite (2021)
A humorous confection divided into four parts:
In Visitor from New York, Hannah, a magazine writer, is joined by her ex-husband, the question being with whom should their daughter spend the next six months? The banter flies fast and furious, but Hannah's well-wrought artifice crumbles as her fears take hold.
The Visitor from Philadelphia is a wife who arrives at the suite, catching her husband "en flagrante delicto" with a drunken hooker.
Visitors from London Academy Award nominee Diana returns from the ceremony empty-handed to her husband, Sidney, whose homosexuality will be no comfort tonight.
The Visitors from Chicago are two couples ending a disastrous vacation they should not have shared.
Neil Simon at his most humane, compassionate best.
Truly community theater, our show features local actors Jenny Arbizu, Michael Budd, Nick Fryou, Charley Gilmore, Al Gonzalez, Shirley Murphy, and Sarah Smith . Directed by Taunya Berrera, Production by Anne Hall.
The play will take place at IOOF Hall in Hollister, at 330 4th Street. Doors will open at 7:30 (1:30 for matinees), and the show begins at 8:00 (2:00).
Download the PDF flyer here.
California Suite played at IOOF Lodge from Feb. 21, 2020 to Feb. 29, 2020.
Director
Producer
Cast